Bondi Pizza, Macquarie Centre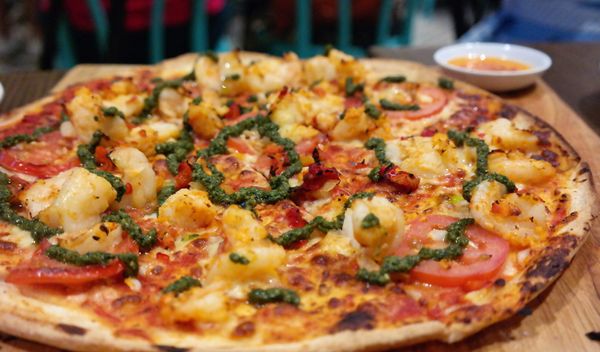 Bondi Pizza You Got a Pizza My Heart
LOCATION: Bondi Pizza, Macquarie Centre
ORDERED: Arancini Balls; Signature Pizzas: Grilled Chilli Prawn & True Vegetarian; Triple Chocolate Brownie; Apple Martini; Lemon, Lime & Bitters and Iced Chocolate ($98)
MENU: http://www.bondipizza.com.au/menu/
PHOTOS: Samsung NX300
---
The people at Bondi Pizza set their priorities straight when they designed the brief of creating 'thin pressed' base pizzas topped with fresh, innovative ingredients and unique sauces. They must have done something right because since its inception in 2009, they have expanded to 7 locations dotted around Sydney. Tonight, with my girlfriends in tow, we explore just how good Bondi Pizza is.
The Bondi Pizza in Macquarie Centre boasts a spacious and elegant interior with wooden tables and pops of colour in fresh green plants and baby blue chairs. The vibe is inviting and warm, and not just because I already caught a whiff of pizza aroma in the air. The menu is substantial and packed with family favourites. It's the kind of place you can bring a large group of friends and know that there is something for everybody.
My gal-pal companions tonight consist of one vegetarian and one pescatarian and you would think that would cause difficulty in ordering, but not here at Bondi Pizza. We quickly decided on sharing the arancini balls for entree, and their signature pizzas – Grilled Chilli Prawn & True Vegetarian.
The food arrived promptly and everything looked fantastic. We dove into the arancini balls while they were still piping hot. Four fried risotto balls filled with Fontina cheese, tomato, herbs & feta, served with a garlic aioli dip. The tomato flavour really came through and I would say is almost a bit overpowering compared to the cheese and herbs. We enjoyed them all the same and the arancini disappeared in seconds.
Next up are the signature pizzas – and boy, do they look appetising!
[The Grilled Chilli Prawn – marinated chilli prawns, roasted capsicum, basil, Roma tomatoes & pesto, served with a side of chilli sauce]
Being a massive fan of prawns and chilli, I knew this order couldn't stray far from absolute delight. I loved the vibrant colours of the plump marinated prawns, fiery red capsicum and tomatoes, and the earthy colours of the pesto and herbs. The prawns were tender and juicy and the toasty aromas of the vegies and pesto worked so well together. The crispy crust and the soft sweet base was the perfect ratio to the amount of fresh toppings.
[The True Vegetarian – Goats curd base, spinach, mushrooms, roasted pumpkin, balsamic onions, Roma tomatoes, kalamata olives, roasted pine nuts, shaved parmesan, pesto, parmesan sauce & balsamic glaze]
I was brought up to love my vegetables so ordering the True Vegetarian was definitely OK in my books. This pizza, however, vastly exceeded my expectations and taste buds. All the ingredients worked beautifully together, as opposed to just dumping a truckload of different vegetables on a base without actually thinking about the entirety as a flavour and texture combination. This is highly commendable and is the pizza that my Vegetarian friend orders every single time.
[Chocolate brownie with milk chocolate chunks served with vanilla ice cream & drizzled with warm melted Belgian chocolate]
The girls and I love our desserts so we couldn't pass up the opportunity to order something sweet off the menu. The Vegetarian also happens to be a full-time Chocoholic, so we chose the triple chocolate brownie to share. This dessert is super rich and decadent so I would advise sharing, especially after the main meal. The brownie itself was soft and moist and the smooth vanilla ice cream was soothing. It's not earth-shattering or original but definitely hearty and indulgent.
I'm looking forward to returning with Jase so we can try out more of their menu. As far as first impressions go, this place stole a pizza my heart.