Ezra, Potts Point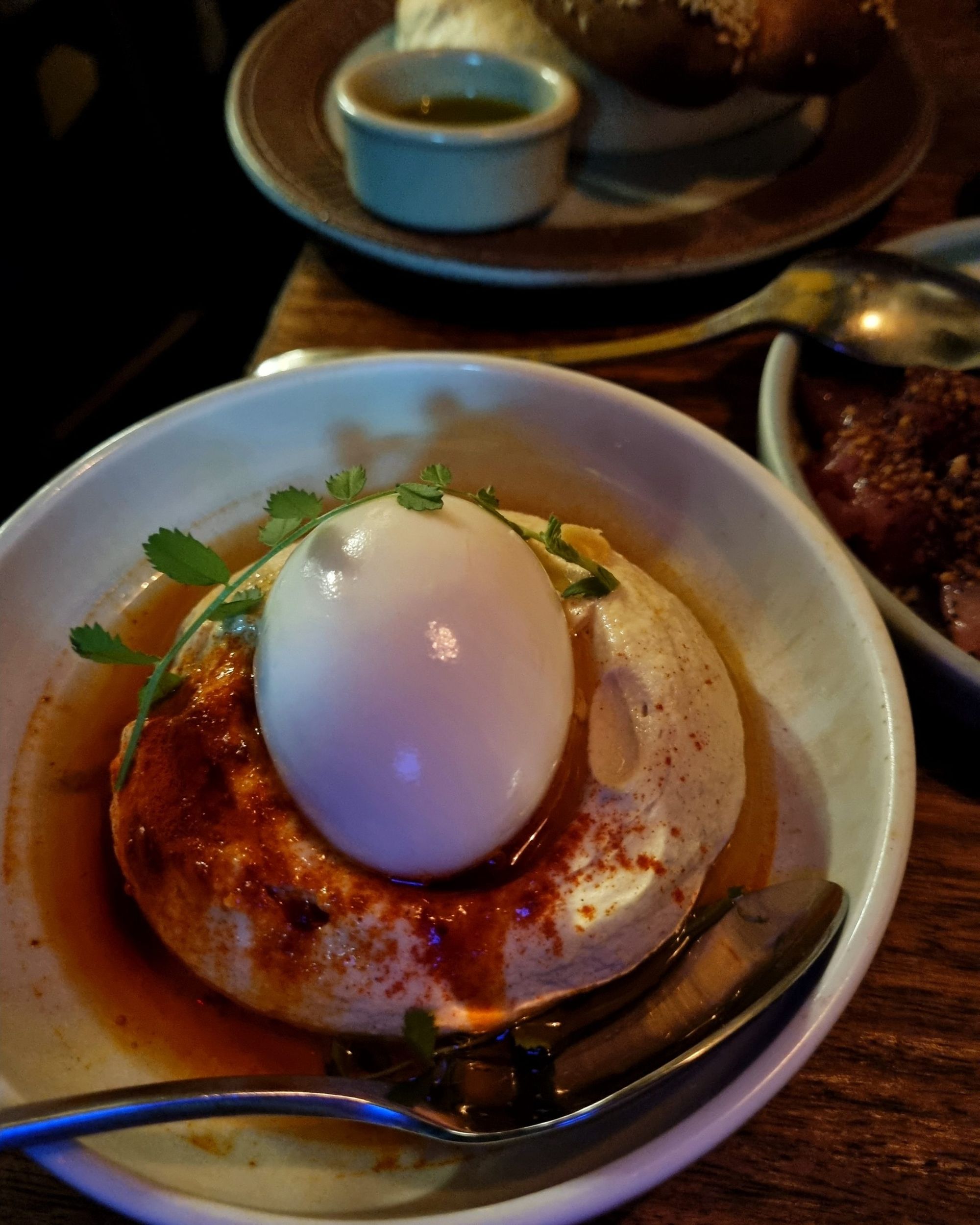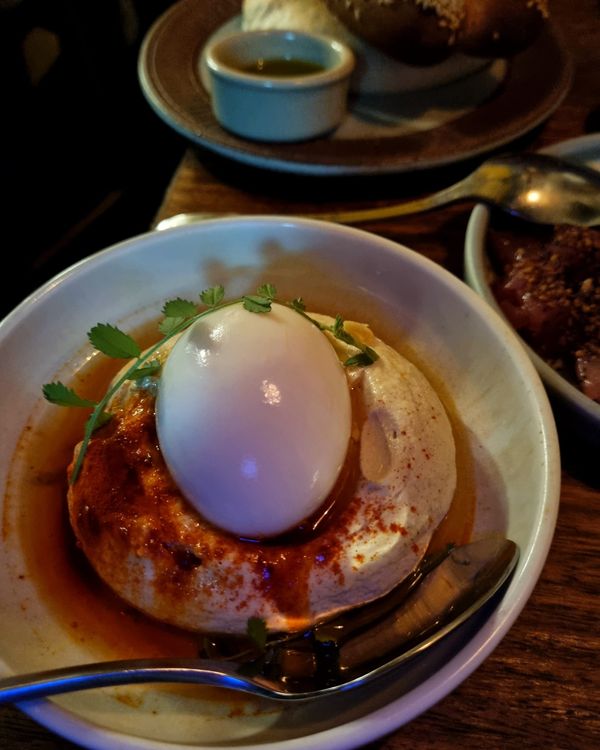 Ezra is the new(ish) kid on the trendy block in Potts Point, bringing flavours of Tel Aviv to the hipster masses. I must admit, I didn't have any idea what Israeli food was. And boy, did I get an education when I visited Ezra.
Sitting pretty on the corner of Kellett Street is the pristine white terrace that houses the restaurant, basking in the fairy lights and neon pink "Ezra" sign at night, you can feel the buzzing energy from a street away. There are a couple of al fresco tables at the front, which can be quite cosy with the heaters nearby. However, we are shown inside to our counter table by the waitstaff, which is towards the back of the restaurant. If you enjoy the hustle and bustle of the kitchen or the idea of perching on a barstool in front of the hypnotic sound of cocktail shakers, I highly recommend the kitchen counter or bar seating. If you get lucky, the kitchen and bar staff make great conversationalists.
Once we are seated, we are educated on the menu. To make things easier for us, we opted for the Set Menu ($69 pp), which seemed to house all the favourites anyway. Easy peasy.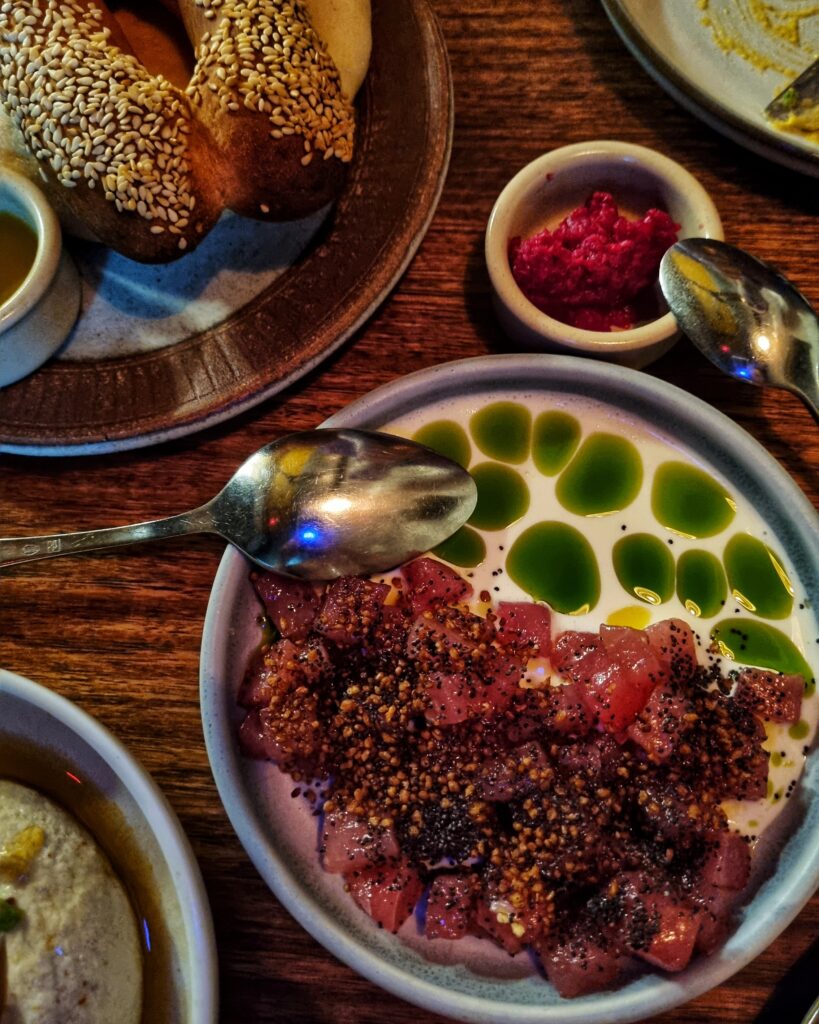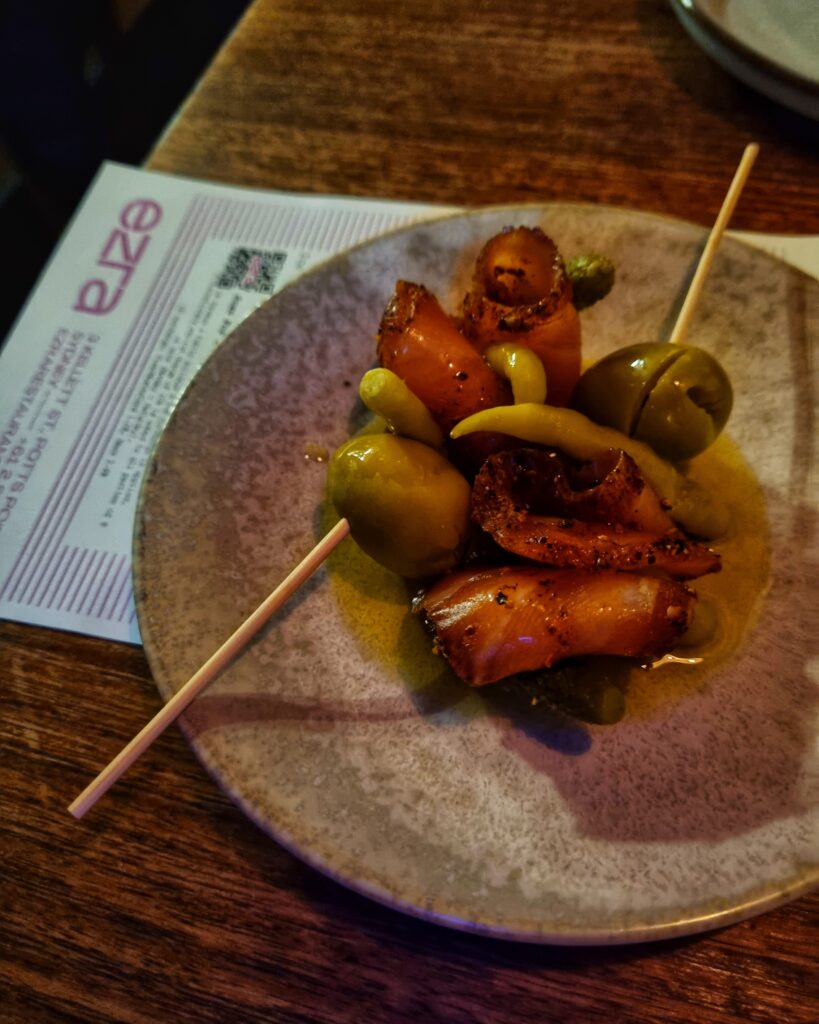 For drinks, the Pickle-back came highly recommended for Jase, and I picked the Paloma off their cocktail list. The food started arriving promptly after, spiced olives and Gilda Radner to start. I will give a special mention to the Gilda – Salmon pastrami, olives and pickled chilli. The pickles were punchy and salty, cutting through the fatty salmon wonderfully. This cost extra to add on but it was so worth it. Next, their infamous hummus with soft-boiled smoked egg chased down with house pita and Jerusalem bagel. The fresh bagel was hot and fluffy, the perfect accompaniment to the buttery hummus and creamy gooey egg centre. This was the dish of the night. Spanner crab falafel and tuna tartare with buttermilk rounded out the entrees, both delicate and moreish.
For mains, we shared the chicken baked in a vine leaf, smoked toum and blistered grapes. Yes, the garlic toum was creamy and punchy but the chicken was the real winner for me, perfectly cooked and super juicy. The roast cauliflower and Israeli salad were a light and refreshing accompaniment.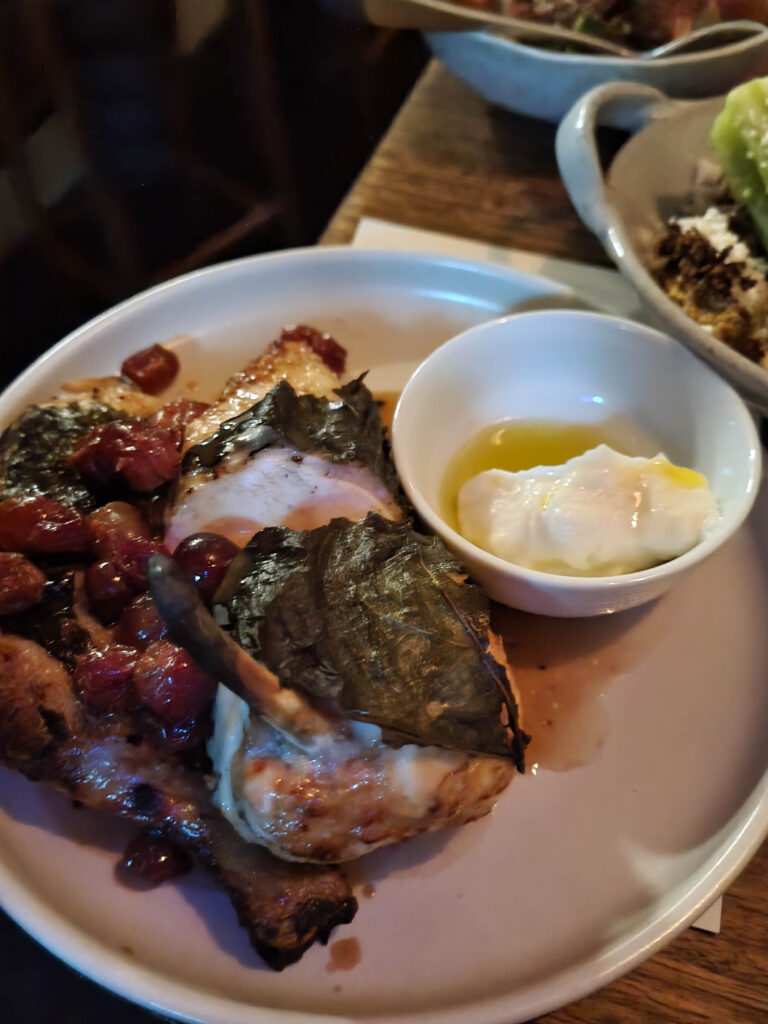 By the time dessert rolled around, we were stuffed. But definitely try to leave room for the whipped ricotta. A complex weaving of nutty, bitter, sweet and creamy texture and flavours. A beautifully rounded dessert that capped the night.
Yes, the staff here are warm and friendly, the playlist in the background is on-point, and the vibe is effortlessly cool, but it is the spectacular celebration of complex and punchy flavours that makes me want to rush back to Ezra.