Four Frogs Creperie, Gateway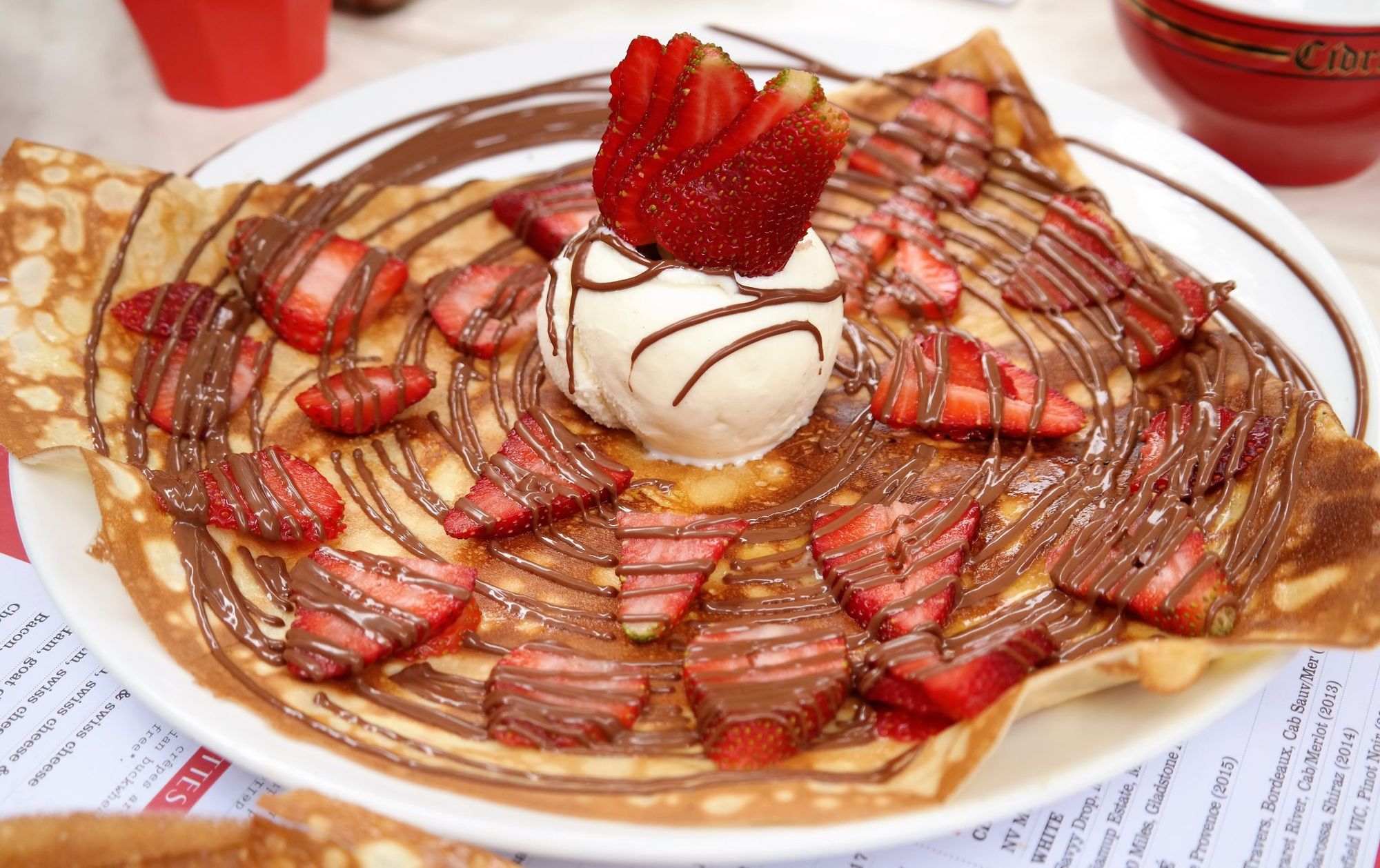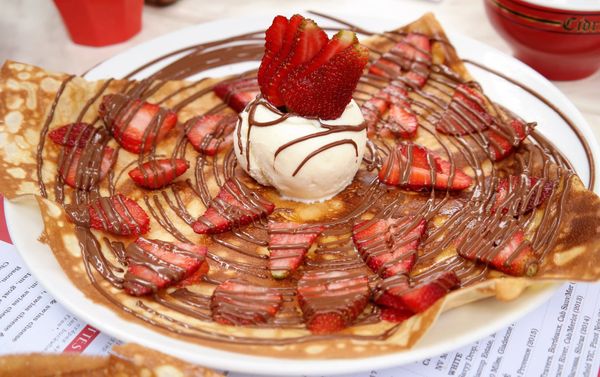 UNFROGETTABLE AUTHENTIC FRENCH CREPES AT FOUR FROGS CREPERIE
WHO: Four Frogs Creperie and Food Critics & Bloggers Australia
WHEN: Sunday Luncheon
WHAT: Menu Tasting of Four Frogs' Signature Dishes
WHERE: Four Frogs Creperie, Gateway Sydney, Circular Quay
---
I remember when I first visited France six years ago. The memories that stick out vividly are morning rituals of boulangerie-hopping and trying to eat my weight in pastries. The lazy afternoons drowned in wine, cheese and the sound of accordions along the Seine. The visually stunning French countryside is dotted with chateaux and fields of lavender. The one thing I regretted not having a lot of was crepes. Glorious glorious crepes. Luckily for me, four Frenchmen has decided to bring the authentic French crepes and galettes to Sydney! Hurrah!
The legend goes, four Frenchmen (frogs) leapt to Australia in search of a beautiful climate, beautiful beaches and awesome people. All that was easy. What they couldn't find were traditional French crepes and thus saw the missing piece of their adventure puzzle. Four Frogs Creperie was conceptualised through their founding chef and owner Florian Guillemard, who was born and raised in Bretagne, the French region where the crepe originated. Specialising in both sweet and savoury crepes ("galettes"), Four Frogs are so popular that they soon expanded from Mosman to Randwick, and now the Gateway Dining Precinct in iconic Circular Quay.
I was very fortunate to be invited by Food Critics & Bloggers Australia (FCBA) to try out the signature dishes and ciders at the newly opened Four Frogs in Gateway. Clever use of space and a classic red & white colour scheme enables a bright and welcoming interior that befits the theme of the restaurant. There are also seatings outside which is great for a beautiful sunny summer day like today. We took our seats at the table and started the tasting with sweet crepe canapes and coffee.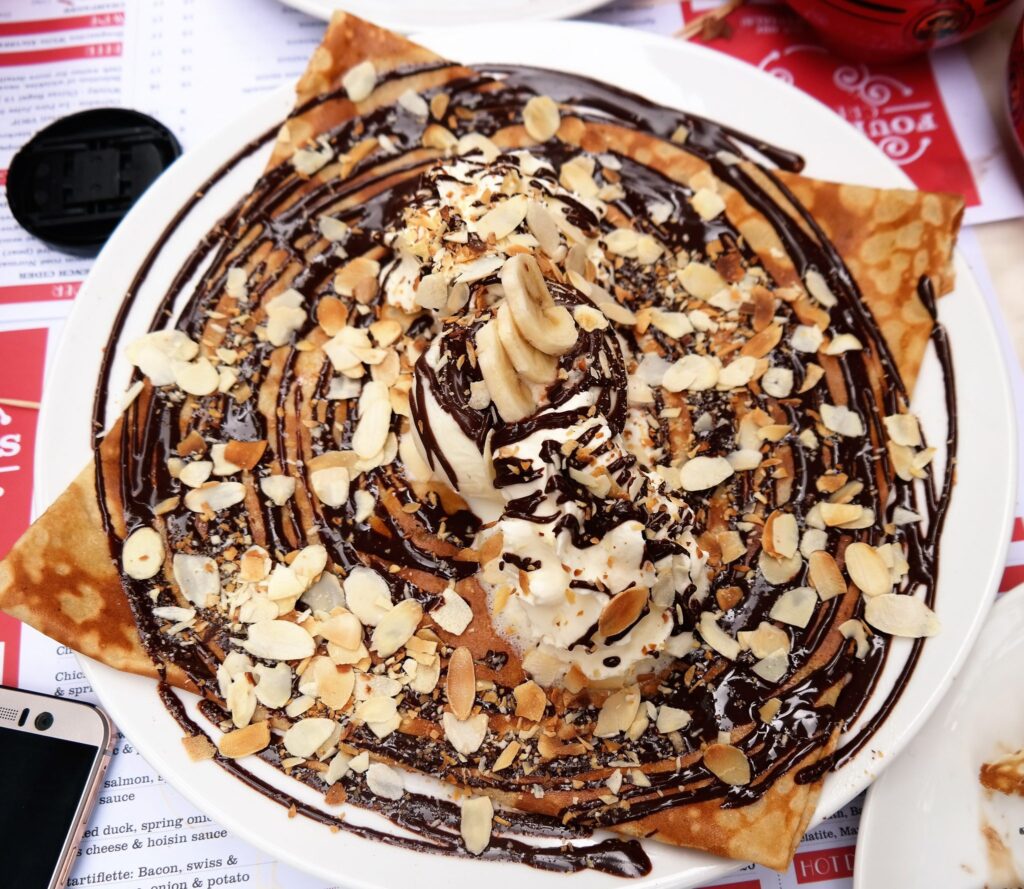 These French "Frogs" take their coffee seriously. They have developed a unique blend that reflects the Four Frogs' personality through working with local micro-roaster Bay Coffee to produce a full-bodied, rich coffee with a lasting chocolate aftertaste that pairs perfectly with their crepes.
The sweet canapes disappeared very quickly, luckily the next round of the tasting suddenly appeared. We got a taste of their signature "galettes" next. Galettes are savoury crepes made with Australian buckwheat flour, which is naturally gluten free. They are milled in store to maximise taste and freshness, and trust me, it makes a difference. The other key factor which heightens the whole crepe experience is in fact, French cider. We got to complement different crepes with matching ciders and not only were they refreshing and tasty, they come in these adorably elegant cups. My particular favourite out of all the delicious ciders is the Ecusson Grand Cidre Rose, which is punchy and tart in flavour, whilst still retaining much of the sweetness of the red apple.
After the first round of galettes, we got to try Four Frogs' summer salad galette range. These salad galettes are perfect for those calorie-counters who wants their crepe and eat it too. I couldn't decide which of these salad galettes I liked better, the smoked salmon or the prosciutto and figs. Both were fresh and moreish.
After all these wonderfully creative and light crispy galettes, we were treated to a myriad of their sweet crepe desserts. First up, two of their most popular "Crêpe Flambée". Technically, crêpe flambée refers to any thin French pancake that's been set on fire. The most popular being the Crêpe Suzette, which is a crêpe covered in caramelised sugar, butter and orange or tangerine syrup, then doused in alcohol – usually Grand Marnier – and set alight. We got to witness this process and the theatrics is a bonus for the little ones. For the adults, it's the flavourful and fluffy as cloud crepes that will impress.
If those crêpe flambée still hasn't satisfied the sweet tooths in our group, fear not because there's plenty more where that came from! The last tasting of the sweet crepes looked every bit as good as it tasted. Classic combinations of Nutella, strawberry and vanilla, as well as chocolate and banana just worked perfectly together in flavour and texture. The crepes were feature-light and creamy and doused with hypnotic swirls of chocolate sauce.
It was evident throughout the entire meal that Four Frogs Creperie is truly proud of the art of crepe-making and the expertise required for these traditional recipes and techniques to be brought to life. And what a joy it is to have a piece of France right here on our shores.