Ippudo, Macquarie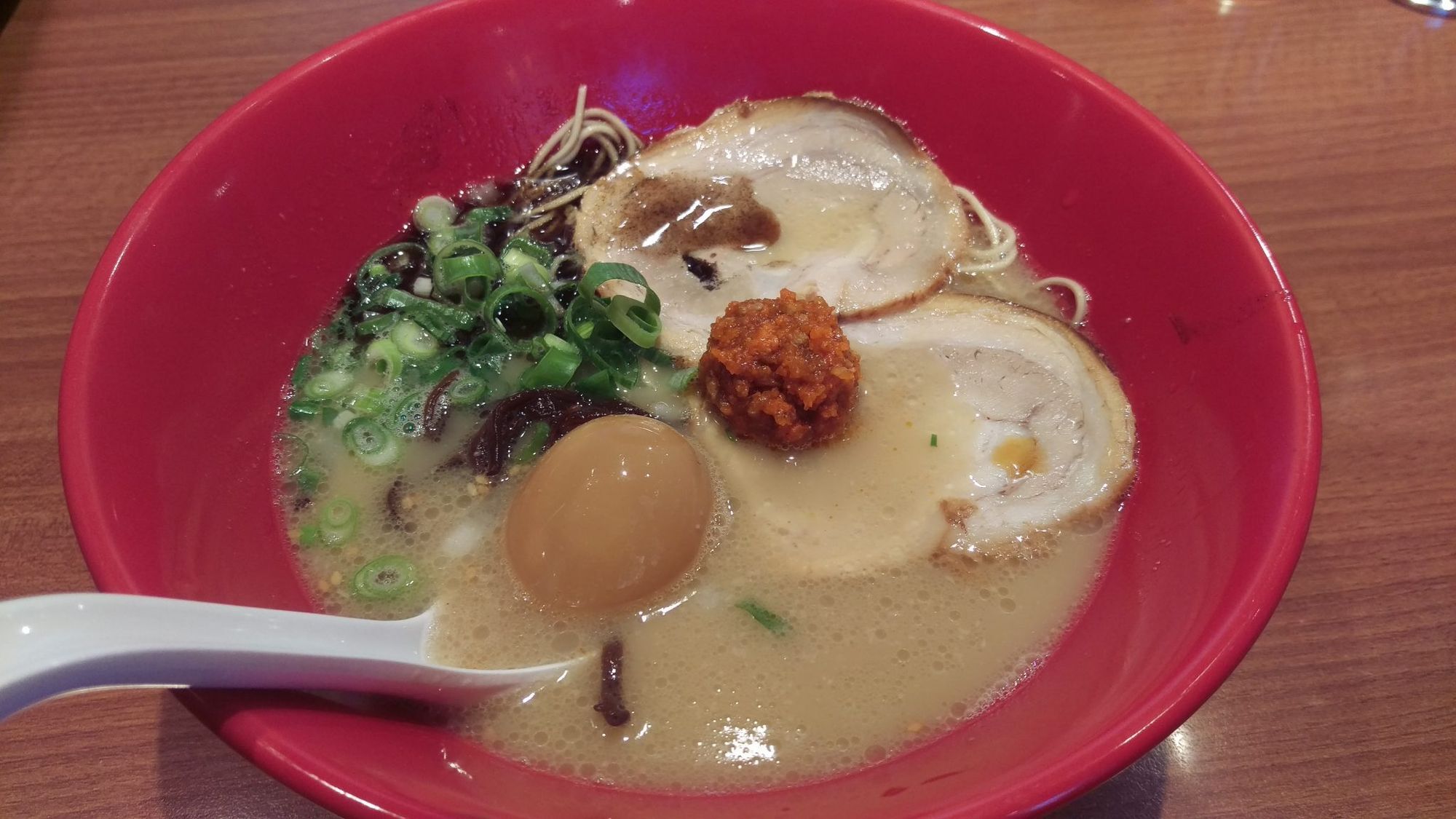 Ippudo Macquarie Park / Lunchtime rush
Ordered: Akamaru Shinaji $16 with flavoured egg ($2 extra)
(For an extra $5 you could get extra pork belly. The bowl comes with 2 pieces of pork belly)
"With great power comes great responsibility", this oft-quoted piece of advice from uncle Ben is something that resonates with me greatly, especially just before every lunchtime as I wonder what tasty morsels I should get for lunch. It is a toughie – that 'something' needs to be filling and satisfying. It is the thing that my entire working afternoon relies on and builds upon. So, today as I once again head towards my usual food court, I decided to give into my desire of carb-loaded ramen cravings and stepped into Ippudo.
The Ippudo store in Macquarie shopping centre has a fairly succinct lunchtime menu. But this is a good thing – if you came into Ippudo with a purpose, then that purpose is Ramen. The pictures definitely help in the decision-making process. As soon as I laid my ravenous eyes on the Akamaru Shinaji ($16), I knew it was the one. And as I'm also a greedy mofo, I decided to treat myself to the flavoured egg for $2 extra. It's a cost that I'm willing to part with, as I'm apparently no longer allowed smashed avos for breakfast.
The Akamaru Shinaji came out quick and fast, steaming and aromatic. The serving doesn't look huge but the bowl is deceptively deep and I thought the noodle portion was generous. Flopped on top of the ramen are two glorious pieces of pork belly, juicy and glistening. A small red ball of blended miso paste adds a splash of colour and flavour to the bowl, but as I like my flavours strong and punchy, I couldn't stop myself from adding a few dollops of chilli oil.
The pork belly and the thin noodles were definitely the highlights here. The noodles were fresh and firm, with the right amount of bite and flavour. The pork belly…man oh man, fatty and tender thin slices that will have you begging for more. I enjoyed my flavoured egg add-on, which was cooked just right but it didn't quite hit the mark in terms of actual flavour, perhaps because it hasn't been infused long enough.
Overall, the Akamaru Shinaji is a worthy bowl of ramen flavoured by some delicious ingredients and a beautiful tonkatsu broth. But I think at $16-18 a pop, I was expecting a bit more WOW factor, or at least another slice of pork belly.