The Wooden Whisk, St Leonards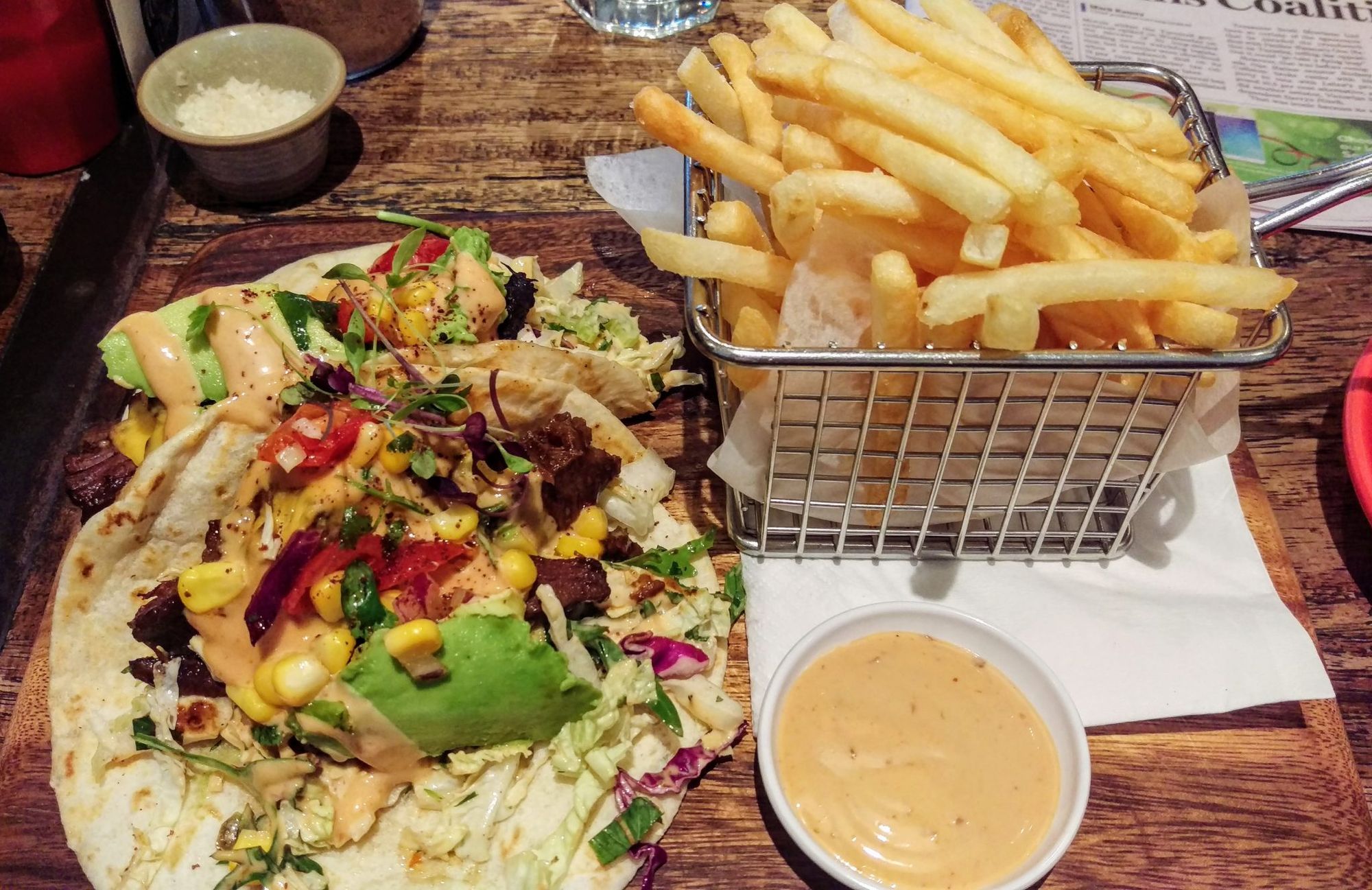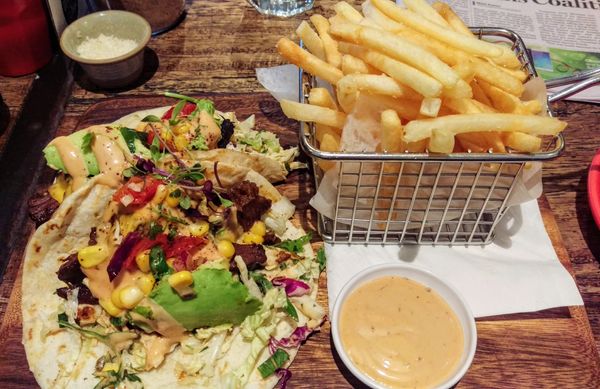 ORDERED: "Chuck Norris" Tacos w. braised chuck steak, avocado & corn salsa, smoked chipotle & shoestring fries ($19.90); Large latte ($4.70)
LOCATION: The Wooden Whisk, 38-46 Albany Street, St Leonards
MENU: http://www.woodenwhisk.com.au/food
PHOTOS: HTC One M9
---
Having heard a lot of great things about the Wooden Whisk cafe, I knew it was about time for me to verify for myself. Stepping into the bright and airy space on this perky Thursday morning, I was greeted by their lovely waitstaff to take a seat.
The breakfast and lunch menus are separate and extensive. The breakfast menu is packed with familiar favourites such as eggs benedict and smashed avocado, while the lunch menu has an assortment of appetising sandwiches, burgers and salads. As I am a big advocate for a 'specials' board, I opted for the delicious-sounding "Chuck Norris" tacos. And for a much-needed caffeine kick, I also ordered a large latte.
The coffee arrived promptly, and it looked and smelled wonderful. The beans are from Single O (formerly Single Origin Roasters), specially blended by Wooden Whisk, which carries earthy and chocolatey undertones. It is one of life's simple pleasures to sip on strong hot coffee whilst reading the paper. And this is exactly what I got to do for 10 minutes before Chuck Norris made its grand entrance.
Two massive tacos are perched indulgently on the wooden board, heaped with smoky braised chuck steak, vibrant chunks of avocado and sweet corn salsa, and liberal lashings of creamy chipotle sauce. On the other side of the serving board was a basket of shoestring fries with its own dipping aioli. It was lust at first sight. The chuck steak was tender and juicy, entwined with the velvet-smooth chipotle and crunchy slaw. I think I actually closed my eyes and sighed "Mmmmmm" like in those cheesy TV commercials. In between each bite of the taco, I also managed to stuff my face with the fries, which were crunchy enough and goes especially well with the spicy aioli.
As I sat there making a mess finishing the last of my tacos, I couldn't help concur with the other fans of this charming cafe. $25 may be steep for some as brunch goes, but I felt the food and coffee fully justified the price. I left full-bellied and satisfied knowing that I found myself another gem on the Sydney North Shore.